George Minoy Two Years Old
George Ernest Minor Littia Bradford Neeley
George E Minor Lidia Bradford Neely
Train in Roache Port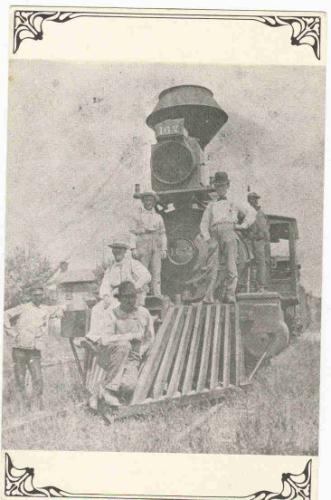 Enter supporting content here
George Minor helped give the Twinkie to the world

By Chris Barge, Rocky Mountain News
September 15, 2005

Legendary baker George Minor used to tell people there's a formula for everything.

"If you have 7 percent sugar, you have bread," the cereal chemist for ConAgra Foods told a reporter 22 years ago. "If you have 11 percent sugar, you have a hamburger bun. If you have 18 percent sugar, you have a Danish."

Advertisement
Click Here!
He also knew that when you develop just the right kind of sponge cake with a white filling, you have a Hostess Twinkie. He's the chemist, after all, who helped develop the famous snack treat.

Mr. Minor, 88, died Monday of natural causes at his Thornton home, surrounded by family. Standing 6 feet 4 inches and 298 pounds, he was known by family and friends as the "gentle giant."

"We sang Amazing Grace," said Nancy Minor, his daughter-in-law. "And just as we started, I saw the pulse stop in his neck. He did everything with amazing grace."

When it came to family, his recipe called for a large batch. The father of eight had 52 grandchildren, 30 great-grandchildren and eight great-great-grandchildren.

At one point or another, he fed each of them with experimental loaves of "hunky bread," which he frequently brought home from work.

"By the time he got from the door to the kitchen table, it was gone," said his granddaughter, Lisa Bommersbach.

Born Oct. 16, 1916, in the small town of New Franklin, Mo., he got his first job in high school, sweeping floors at a bakery, where the baker allowed him to help mix the bread.

Mr. Minor attended Oklahoma State University. He was married in 1940 to Mary Minor, whom he met in church. She died in 1998.

Mr. Minor enlisted in the Navy during World War II and was stationed in Oregon. He was quickly drafted to become a baking instructor - a profession he held off and on through the rest of his life.

After the war, he founded a baking school at Oklahoma State University, the first such university-based school in the country. He then worked eight years for the bakery products division of Borden Co.

In 1955, he moved the family to Denver, where he took a job at the Hungarian Flour Co., now owned by ConAgra Foods.

Never one to talk about himself, Mr. Minor developed an international reputation through his actions more than words. For more than 30 years, he and his family whipped up cobblers, éclairs and 405-layer croissants in four ovens at the Colorado State Fair in Pueblo.

Big-name companies such as Nabisco, Keebler and Rainbo flew him around the world to consult with new product developers. The United States government once sent him to South Africa to investigate why a product it sent that country wasn't working.

Mr. Minor took one look and knew the problem.

"We sent them cake flour, and they were trying to bake bread," recalled his grandson, John Sedillo.

Mr. Minor retired from ConAgra at age 70. But his passion for grains and breads did not go stale. Last year, he cooked pancakes for fellow patients while recovering from surgery.

A viewing will be held today from 9 a.m. to 4 p.m. at Olinger Highland, 10201 N. Grant St., Thornton. The funeral is Friday at 9:30 a.m., also at Olinger.
Ephraim Minor



Born: 24 Oct 1675 Stratford
Died: 16 Sep 1762Woodbury, Litchfield, Connecticut, USA

Rebeca Curtis
Born: Nov 1677 Woodbury, Litchfield, Connecticut, USA
Died: 13 Mar 1768 Woodbury, Litchfield, Connecticut, USA



Connecticut Town Birth Records (Barbour Collection)

Name: Ephraim Minor

[Ephraim Miner] ?

Gender: Male

Birth Date: 24 Oct 1675

Birth Location: Stratford

Parent Name: John Minor
Capt. John Minor
Born: 1634 Chew Magna, Somerset, , England
Died: 17 Sep 1719 Woodbury, Litchfield, Connecticut, USA



Elizabeth Booth
Born: 10 Sep 1641Stratford, Fairfield, Connecticut, USA
Died: 24 Oct 1732Woodbury, Litchfield, Connecticut, USA


Name: John Miner
Gender: male
Birth Place: MA
Birth Year: 1635
Spouse Name: Elizabeth Booth
Spouse
Birth Place: CT
Spouse Birth Year: 1641
Marriage
Year: 1658
Marriage State: CT
Number Pages: 1
Leiut.Thomas Minor

Born: 23 Apr 1608 Chew Magna, , , England
Died: 23 Oct 1690 Stonington, New London, Connecticut, USA

Grace Palmer

Born: 1608, , , England
Died: 1690 Stonington, New London, Connecticut, USA

Connecticut Town Death Records, pre-1870 (Barbour Collection)
about Lieut. Thomas Minor
Name: Lieut. Thomas Minor
Death Date: 23 Oct 1690
Death Location: Stonington
Clement Miner

Born: 23 Feb 1585 Chew Magna, Somerset, , England
Died: 31 Mar 1640 Chew Magna, Somerset, , England

Sarah Pope
Born: 1578 Chew Magna, Somerset, , England
Died: 1640 Chew Magna, Somerset, , England